Vocabulary is a big issue with my kids.
Part of the issue is that a lot of the kids come from homes where English either isn't spoken, or it is the second language of the parents, so there is some devised language.
For example, a few weeks ago, I mentioned one of my students using the word, "woste,"
as in the past tense of "wasted"
as in "used it all" as in "
My glue stick woste."
So we have to do a lot of word work
hence my bazillion products on TPT about word work.
This is a simple center activity to synonyms and antonyms with kids. It includes a recording sheet and a matching activity for synonyms and antonyms, and it's Easter themed, so it'll go great in your word work centers this week! :) Also, isn't it just so cute? I HEART KPM DOODLES.
Grab it TPT or Teacher's Notebook.
Grab the matching synonyms freebie at
TPT
.
Also, don't forget to check out 3-6 Free Resources, a new blog full of freebies for grades 3 - 6!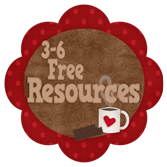 Pin It