This morning, I was sitting on my couch, working on some bookmarks for my sister-in-law. I heard the ice cream man drive down my street.
My first instinct was to stand up and race outside, waving my dollar in the air frantically, shouting, "Ice Cream Man! Ice Cream Man!"
Those instincts don't fade. I didn't actually do it, but it was hard work keeping myself indoors.
I continued to sit on the couch, watching Law and Order SVU (no, I don't know why I watch it. It's so awful) and I finished the bookmarks for my sister-in-law. She's a fifth grade teacher in the district next to mine and she wanted her kids to have bookmarks they could color to use in their shared reading books: Shiloh. I didn't know what book she was reading when I made them, but luckily, one is a dog!
Anyway, I thought you might like them. There are four pages, and each page has four bookmarks. They're black and white so the kids can color them.
Four different styles:
*Pizza
*Lemur under a tree
*Lion under a tree
*Dog with a bone
Grab them for free at TPT!
And don't forget to check out 3-6 Free Resources for more updates on free stuff for grades 3 - 6!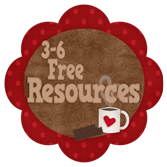 Pin It