Wow! My first linky party! This one's hosted by
What the Teacher Wants
and
Oh' Boy Fourth Grade
! I've never done one before! Here goes - let's see if I do it right.
AND
What am I thankful for in my classroom?
I am thankful for a lot of things in my classroom. This year, I have twenty little people who are dropped off every day to learn something. Their parents have entrusted me (ME?!) with these little people, and hope that I'll care about them and worry about them and help them grow just like they do. I'm thankful I have administration that lets me teach the way I believe is best and doesn't micromanage me or shove testing down my throat. I'm thankful I work with these wonderful colleagues!
Third grade fruit for Halloween. I'm the pineapple!
As far as an item I'm thankful for - it's most DEFINITELY my ELMO document camera & projector. I LOVE LOVE LOVE it. It makes my teaching life so much better :)
What person am I most thankful for?
This is a tricky question! It's the singular form of person that makes it so hard! I am a person who loves people, (aren't all teachers?!) so I have to modify it to the people I'm most thankful for. That would be these people (my family at my brother's wedding)
And this guy (the one who was taking the pictures!) Fernie is my boyfriend of three years. He's a photographer who also works for my school district!
What three blogs are you most thankful for?
I think I have to put Amy Lemons first, because she was my introduction into the world of teacher blogs! Everything is sooooo cute and it makes me want to make my materials even cuter!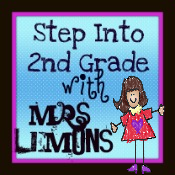 What guilty pleasure am I most thankful for?
Guilty pleasure… I don't feel guilty about much, really. I don't have a Twilight fetish or listen to the Backstreet Boys… Whipped cream? Marshmallows? Sugar in general? Yes, I think that's my guiltiest pleasure. Sugar.
Such as this tasty hot chocolate with whipped cream from
my present-wrapping escapades earlier today
What am I most thankful for?


I'm pretty darn blessed! I'm thankful for my family and faith and all the wonderful people I am blessed to share with. I'm thankful for traditions that make me feel cozy and the enormous bookshelf in my living room that's full of awesome books. I'm thankful I'm a teacher, because I can't imagine any other career that would fill my heart and mind up as much as teaching does.